YOUR HOME MAY HAVE ALREADY BEEN SOLD!
Get your home matched with over 4,000 Buyers today!
Fill out the form on the right to Match Your Home with one of The Shawn Viguerie Team's Buyers!
The Shawn Viguerie Team have over 4,000 Buyers in their database and may already have the Buyer for Your Home. This is through an exclusive program called our "Buyers in Waiting" program!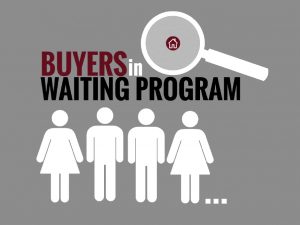 These Buyers are READY To BUY NOW! The truth is that Shawn and his team have started marketing for your home, before you ever contact them! They don't sit around and wait for you to contact them, then start marketing for buyers for your home, they already have the buyers!



Call The Shawn Viguerie Team NOW at 253-444-5190.







Your Home SOLD GUARANTEED or I'll Buy It!*

According to data from the Puget Sound Area Multiple Listing Service, The Shawn Viguerie Team sold their listings for almost 3 to 7 percent more money than the average agent and sells them 18% percent faster. Choose your agent wisely. Your bank account will appreciate it. We Promise!



· SELL FOR MORE We sell our listings for almost one percent more in sales price. This means real dollars in YOUR pocket.


· MORE LIKELY TO SELL We sell 100% of our listings compared to the average agent who only sells 84% of their listings. Don't take the chance with the average agent's track record.


· SELL FASTER Per the Puget Sound Area MLS The Shawn Viguerie Team sells homes 18% faster than the average agent.


· WE HAVE THE BUYERS We have over 4000 Buyers in our database! We may already have the Buyer for Your Home!

There is a difference in real estate agents, the service they provide and the results you get. You owe it to yourself to see first-hand the difference that can benefit you!

*Seller and Shawn Viguerie must agree on price and closing date.




What Our Clients Have to Say: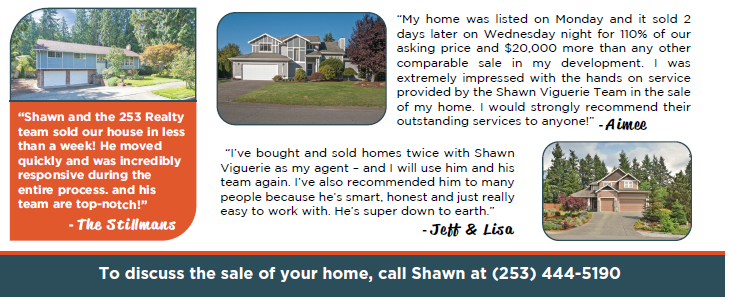 MATCH YOUR HOME WITH ONE OF OUR BUYERS: